QUANTUM ACCELERATES PRODUCTIVITY WITH DATA ACCESSIBILITY
WORK WITH CONFIDENCE
Getting work done accurately, the first time, and on schedule is critical to your success. If you do not have the correct instructions or the inventory and tools you need for your work, it is impossible to do your job and hit your targets.
Do you have real-time access to accurate production data and the ability to communicate with the rest of the team as work progresses? Are you able to send or receive changes to work fast enough, in planning or in progress, to avoid costly rework? Are you alerted to problems when they occur so you can correct them quickly and complete your work? You need data you can depend on to be prepared and ready to tackle the daily challenges of your job. You need a single, shared, manufacturing software solution for Complete Production Control.
You need Quantum™.
INCREASE EFFICIENCY
REAL-TIME DATA, REAL-TIME INSIGHT, REAL-TIME RESULTS
INCREASE CONTROL
ALERTS AND NOTIFICATIONS TIGHTEN PROCESSES
IMPROVE ACCURACY
WITH INSIGHT AND CONNECTIVITY FOR EVERYONE
LET'S EXPLORE HOW QUANTUM CAN HELP YOU IN YOUR WORK
Every department, function, and role within a manufacturing company is vital to its success. We understand this and have designed Quantum to be an integral part of all facets of work in production. From planning to work instructions, inventory to scheduling, quality to shipping - Quantum keeps it connected, managed, and analyzed so you can focus on your work.
TAP A TOPIC BELOW TO DIG DEEPER
| Every Department, | Every Function and Role, | Connected - with Quantum |
| --- | --- | --- |
| | | |
| | | |
| | | |
| | | |
QUANTUM HAS YOU COVERED WITH VISIBILITY, CONNECTIVITY, AND NOTIFICATIONS
DISPATCHING
Get every order onto the shop floor without having to manage the process. Put the work where it needs to go and ensure that it will be done on time.
DASHBOARDS
Get an immediate view of the work on the shop floor and its progress towards completion. Quantum does all the heavy-lifting for you as you do your daily work.
ALERTS
Ensure every member of your shop can communicate with the right team(s) without wandering around. Send alerts or just leave notes for future shifts.
Our customers have spoken
In the 2022 InfoTech Research Group MES Software Survey, vendors were assessed by their own customers on what it was like to work with them. We are honored to have been ranked #1 in Vendor Support against our competitors.
The Complete Production Control Software for North American Manufacturers Across Many Industries
CIMx has a long history of collaborating with manufacturers in the following industries to provide the solution needed to improve visibility for production control.
Aerospace and Defense,
Composite Engineering,
Electrical Assembly,
Engineered Parts,
Medical Device,
MRO
RANKED A LEADER IN MES
CIMx is pleased to be recognized by InfoTech Research Group as a LEADER in the 2022 MES Software Survey. All vendors were rated by their own customers across capabilities, product features, and customer experience for this survey.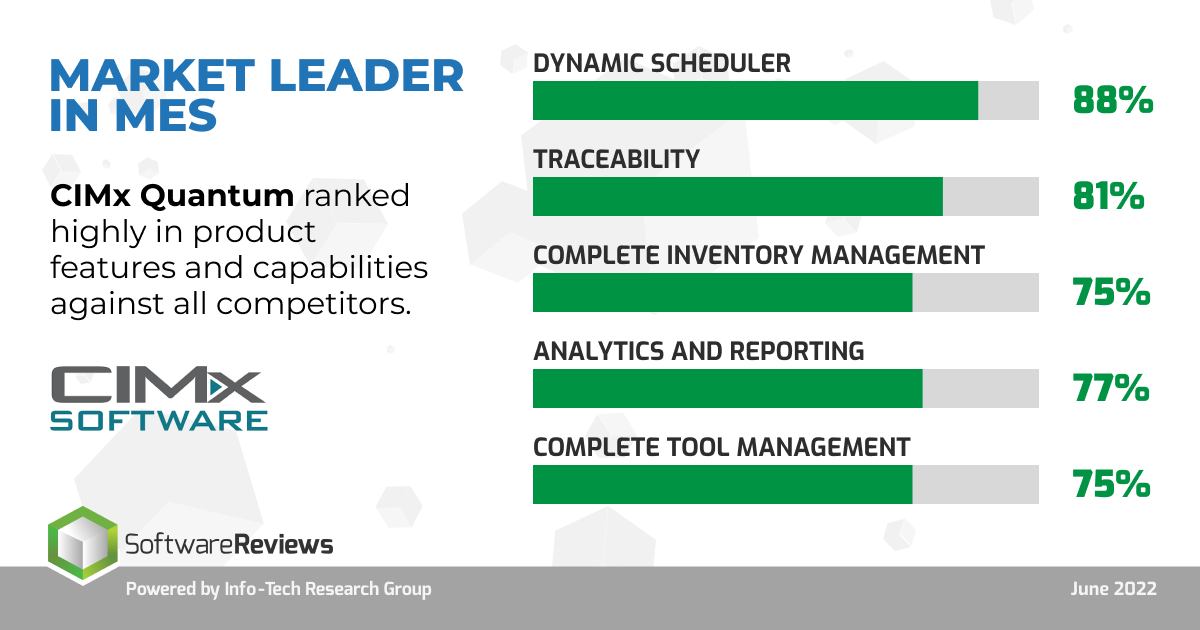 Quantum: The Best manufacturing software
Ready to Get Started?
Connect WITH CIMx Today!
Contact us today to schedule a brief, no-obligation meeting with our own staff to discuss your needs and how Quantum can help.