Why MES? Why Quantum?
If you want to help your clients increase the speed, accuracy and quality of their manufacturing process, you need a tool to help you get there.
Built for manufacturers. Structured for partners.
We built Quantum to handle the problems your clients have today: to tell them where everything is in process, to warn them when something is falling behind and to help them solve their production problems more rapidly and cost-effectively.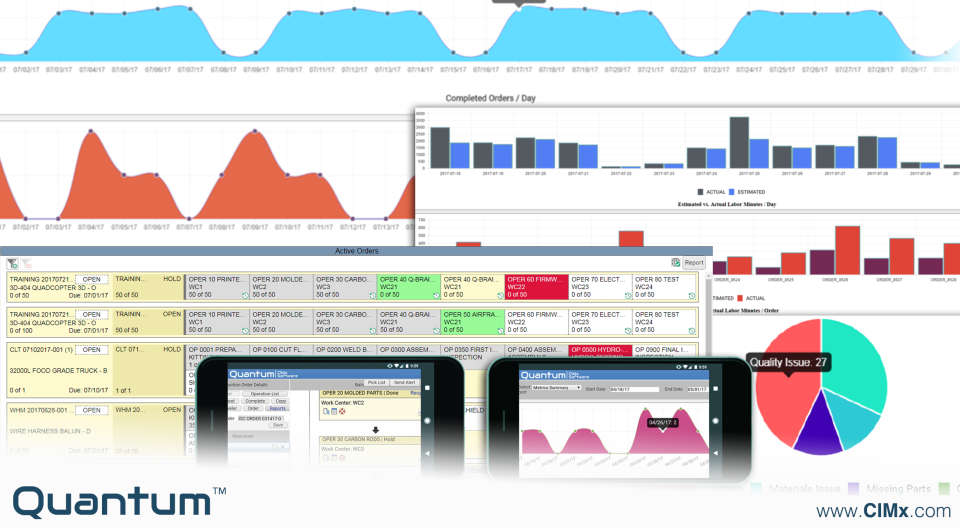 Tighten their processes
From Prototyping to Large Production Runs
Having the right information makes all the difference in manufacturing. Quantum gives your clients a true connection to the work on the shop floor, whenever and wherever they need it. Quantum collects, filters and puts their information where they need it at the right time.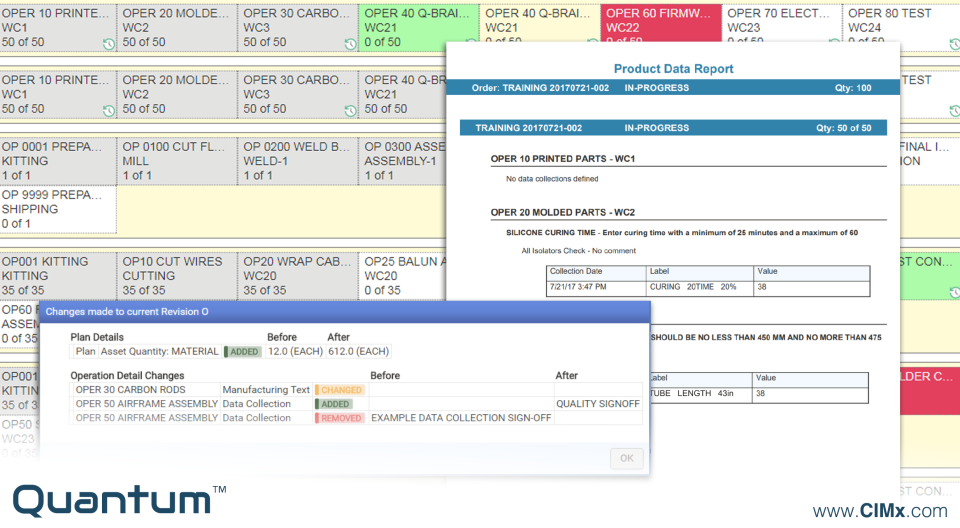 Connect their systems
From ERP to Access Database
Connected data is actionable data, especially when you're helping your clients with a Lean, Six Sigma or Continuous Improvement project. Quantum can connect to any ERP at your clients' site, even one that's homegrown or on a VAX. We have the tools to help you help your customers.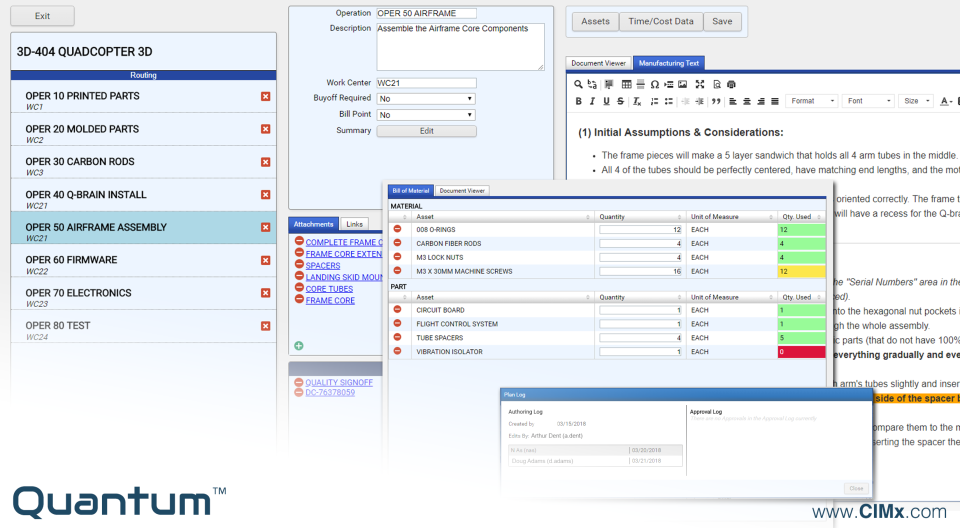 Improve their workflow
From Dispatching to Quality Control
From Dispatching to Scheduling, Quality Control to Engineering, Quantum provides automated and manual workflows for your clients. Help them to spot trends in their work and tighten their processes with the right data to get them there.
What can we do for your clients? For you?
Quantum is a digital workflow solution, converting your clients' existing paper routings to a faster, more flexible process that gives them quality control. They get the speed and accuracy they need out of the people and processes they have.
You get the data you need to help them solve their real problems. No more guestimates on the core issues. You can A/B test processes, change routings and even suggest new steps on the way to getting tighter, more robust control over every step in their production process.
fail and fix
The Standard Shop Floor Methodology
This is a standard shop environment. Work continues until you hit a machine issue, a materials shortage, a personnel problem or other unexpected event.
You work around the problem. Unexpected consequences often push your schedule out and cost you lots of time and money.
CONTROL AND PREVENT
A Digital Solution
Quantum gives you the tools and processes your clients need to design and control their standard workflows and unexpected events. Data analytics measure and record trends in key production indicators.
Historical information and trend analysis help break their scrap and error patterns.
How does it help solve issues?
Quantum's first job is to prevent issues, spotting things that are going wrong and giving your clients immediate access to approved workarounds so they can get back to it quickly. When something completely unexpected happens like machine failure or a materials issue (we don't wish those on anyone), Quantum handles those too.
Sometimes, the issue is good, like a Change Order or a Rush Order from an important customer. Quantum handles these routinely with minimal disruption to the current order flow. They can even simulate work in Quantum to see if they can accommodate that Rush Order before they accept it. Quantum dynamically re-assigns work to optimize their workflows and meet their shipping needs.
It's impossible to list everything Quantum does. With 25 years' of shop floor system installation under our belts, we simply have more to offer than a 30 minute demo (or 3 hours, for that matter) or a one-pager can go through.
We handle things like:
Engineering
Design Control
Process Control
Production Control
Inventory and Asset Control
Tool Calibration & Records
Scheduling
Capacity Planning
and more.